Local Area
The Maharajah's Well

In the nearby village of Stoke Row, The Maharajah's Well is to be found. It is a 370-foot deep well with a highly ornate wellhead cover, which includes a golden elephant under a domed canopy. It was paid for by the Maharajah of Benares (now Varanasi) in 1864. The local area governor, who was from Stoke Row, had told the story of a boy in the village who had been beaten by his mother after drinking the last of the water in the house during a drought.

At that time in the nineteenth century to replenish the supply meant a several-mile round trip to fetch and carry the water by hand. The Maharajah was so touched by the story that he financed the digging of the well, along with a keeper's cottage and a cherry orchard to provide for the upkeep of the well.

The well fell into disuse but was renovated in the 1950s and can still draw water. The keeper's cottage is still alongside but the cherry orchard is now an ornamental garden.

Henley-On-Thames

Henley it is one of the county's most picturesque towns, known most commonly the world over for its Royal Regatta held in the first week of July. It becomes inundated with international oarsmen and visitors, eager to be a part of one of the great sporting and social events.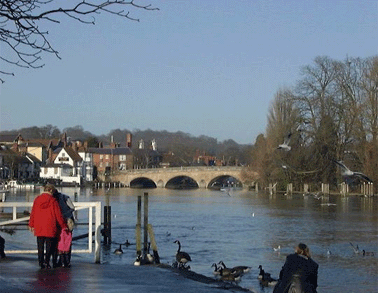 The new River and Rowing Museum in its award-winning building is proving to be a magnet for those who want to learn about the history of rowing, the mighty Thames and, of course, the town.

As for shopping, there is something for everybody and to suit all pockets - fashion boutiques, some selling clothes by top designers, two premier supermarkets, old-fashioned butcher shops, privately-run bakeries and tea rooms with delicious home-made cakes.

Whatever you want, Henley will have it in abundance. Good food in fine restaurants, riverside walks, and sports facilities.

Reading

Reading is one of the country's most up and coming towns, being the heart of the UK's Silicon Valley. Within convenient reach of London, it's popularity for business and commerce is increasing.

Reading now boasts the Oracle, a spectacular shopping centre sited alongside the River Kennet with numerous riverside places to eat. Especially recommended to the discerning gourmet lovers is the London Brasserie, a restaurant under the same management as The Crooked Billet in Stoke Row, a mile from Neals Farm, and also well worth a visit.

Other places to visit

Greys Court, Henley

Basildon Park, Lower Basildon, Reading

The Savill Garden, Windsor Great Park

Windsor Castle

Legoland, Windsor

Stonor Park, Stonor, Henley-On-Thames

Oxford City

Top of page